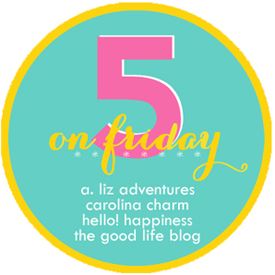 One.
Remember how
last week
, I was complaining about all of the yard work we needed to do? Well I decided to just hire someone to come in and do everything. Our front yard has been finished. Finally! I wish I had before/after photos, but I forgot to take a before. Basically, we ripped out a big tree that was in front of the porch. Also took out a huge portion of the right half of the yard that was all garden/shrubs/bushes and the like. And then dug out all of the grass, and started completely over by laying down new sod. Hallelujah. Such a relief to get it done.
Two.
I'm trying really hard to cut back on soda. I am a huge coke lover and so trust me, this is a big deal. I stopped buying it for the house, so at least now I don't have access to it all day. And I am trying to stop running through the McDonald's drive thru when I'm out and about. But oh man, McDonald's fountain coke is soooo good!! Truth is, I've have been gaining a little weight, and so I figure I'll take baby steps. First try to cut out sugary drinks, and then I will try to switch up the rest of my diet a little bit here and there. We'll see how well I do ;-)
Three.
I love Summer, I think it's my favorite season of the year. The boys and I get to be outside, get some Vitamin D (which believe me, Seattleites NEED it), and everyone just seems happier all around. But I am already thinking about how fun the Fall will be! Pretty red, gold, and green leaves everywhere, chillier boot weather, halloween, and thanksgiving! And then shortly after that is Christmas! But what I need to do is slowwww down and enjoy the warm weather because once the rain hits again, I will be complaining to have the Summer back. lol
Four.
I really want a new DSLR. I have my eyeballs on the
Canon 6D
because I really want a full frame camera and basically it's time to upgrade. Plus, this one has been getting awesome reviews! But do I really want to spend $2000 right now on it? I'm telling you, the overhead of owning your own photography business so expensive!
Five.
I really really really want to change my blog name. Truth is I still love the name of my blog, I had a
very specific reason
for choosing it. But lately, there have been a few reasons that I have kind of been itching to change it (which I won't go into right now!). But I can't seem to pull the triggor. I feel like there is so much work that goes into it -- plus, I worry that people won't recognize my blog if I do?
Also! While we're on the topic of blogging, I have lowered my
advertising spots
a ton, they are much more affordable now. And anyone who snatches up a spot in the next week or so will get an additional 30% off using code: AWESOME. :)